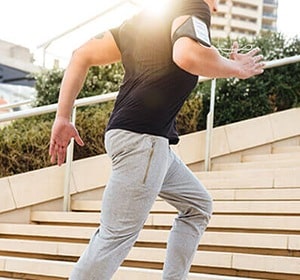 When practicing recreational or more professional sports it is important that the body is able to perform the movements properly during exercise so that the risk of injuries and recovery after heavy exertion remains as small and short as possible.
The material that our body must work with during our efforts is made by the production of collagen. Skin, bones, tendons, cartilage but also the walls of our aorta are formed by collagen. After examination, a high concentration of silica was found in all these tissues.
Found in large quantities in ACILIS by SPRITZER ® in its dissolved form, this mineral stimulates the production of collagen and is an important component in the production of this essential protein. Het regelmatig drinken van silicarijk water zorgt ervoor dat de cellen die worden belast bij het sporten in optimale flexibele en toch sterke conditie zijn. Silicon / silica is the basis for the adhesive that ensures that all our physical movements are absorbed by bones, ligaments and cartilaginous joints that support all these movements.
Apart from the fact that natural artesian spring water is the best option for hydration, regular drinking of silica-rich ACILIS by SPRITZER ® is actually the best way to get your body and all its cells in optimum condition. As almost everyone knows, children have more flexibility in their bodies and the bone-like tissue of babies is even deformable. This can all be traced to the presence of silica in the body 80% of the silica in our body has disappeared in adulthood and the silica content is getting lower as we get older.
ACILIS by SPRITZER ® complements what keeps us flexible, flexible and energetic in our youth. Give your body the basic ingredients to support your sporting performance and be amazed at what our body is capable of with the right ingredients, without artificial tissue-straining additives.
Many gyms and personal trainers, but also orthomolecular scientists, are very interested in our silica-rich water. In the field of supplements there are many providers of silica tablets and additives. These supplements work minimally because the digestive system impedes a high level of silica in the blood. ACILIS by SPRITZER ® silica-rich water makes it possible to increase the silica value in the blood directly via the stomach and intestinal wall. This leads to a direct possibility to repair or renew cells in the right place in the entire body, so that these tissues remain in optimum condition.
Sporting health,
Dennis Nelisse
Sources
https://mens-en-gezondheid.infonu.nl/diversen/191418-collageen-wat-is-collageen-en-behandeling-met-supplementen.html
https://mens-en-gezondheid.infonu.nl/gezonde-voeding/115418-silicium-botten-en-bindweefsel.html
https://www.devoedingsdokter.nl/Silicium.html