The natural power from the tropical rain forest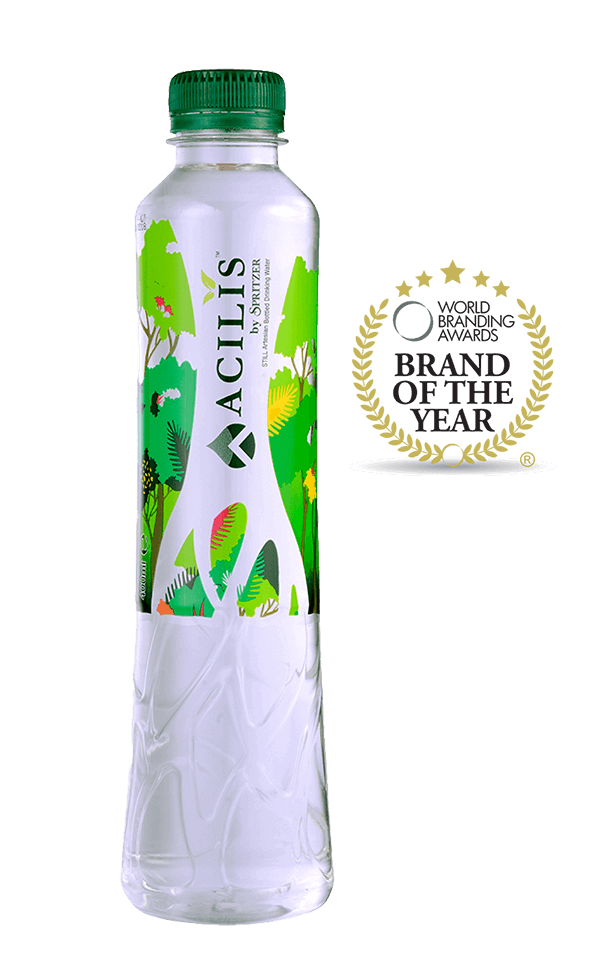 Extracted deep under the pristine Malaysian rain forest and imported exclusively by 2D Silicawaters BV.
ACILIS by SPRITZER ® is naturally rich in dissolved Silica, also known as silica. Silica has a stimulating effect on the collagen in the body. ACILIS by SPRITZER ® water ensures softer skin, stronger nails, smoother joints, reduction of hair loss and faster hair growth.
Our water is naturally vegan, vegetarian, gluten-free and nut-free. In addition, it is free of sugars, sweeteners, flavorings and preservatives and is halal certified. It is suitable for people of all ages and does not interfere with any medication.
ACILIS by SPRITZER ® artesian water has a silica content of at least 55.2 mg / L (milligrams per liter) and a pH value of 7.10. The bottles are BPA free and recyclable.

Feed your body with the vitality of nature
Natural ACILIS by SPRITZER ® water distinguishes itself enormously from most bottled spring waters. It naturally contains more silica in soluble form than other types of spring water.
Silica occurs naturally in water and is abundantly present in ACILIS by SPRITZER ® water. It is not produced artificially. Silica is the only form of silica that humans can effectively digest and absorb in the body. There are only a few source waters in the world that have a high silica content, many do not even contain silica at all.
ACILIS by SPRITZER ® is the result of underground natural chemistry. Only nature has the power to create the unique qualities of silica-rich water.
A gift from nature, supported by science.
Scientists have made amazing discoveries about the benefits of drinking silica-rich water regularly.
They discovered that silica-rich water can improve our health by helping to cleanse our body from stressful aluminum. Silica-rich water also has a positive influence on the growth of hair and nails and makes it stronger and shinier. In addition, it promotes softer, supple skin and smoother joints.
Each bottle comes from an artesian water source 128 meters deep under the tropical rain forest in Malaysia. Spring water with a naturally high silica content, filtered and UV treated, in its purest form with a unique and soft taste that is refreshing and cleansing.